You're looking for the leaning cow aren't you? Ah, well this is the clematis that blooms on the side of the Peanut Butter Cafe & Roadhouse in the summer. We're off the main road a bit and quite often (maybe because of a little sign chicanery on the main road) we get some folks new to the area stopping in. They have their stories, too. We let them use the restroom even if they don't buy a soda pop, but they usually do.
The cow is in the little clearing down our little road a bit.
We didn't tip her; she was partway over when conscience struck and we exclaimed, "What ARE we doing?" Okay, so we left her tilted a little; she likes it that way – makes it easier in a wind.
Actually we never tip sacred cows, we just lean on them a little. Sacred bulls? Well, we run from them.
***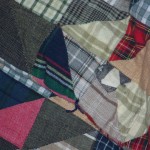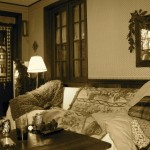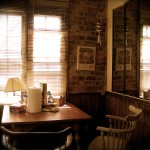 The Peanut Butter Cafe & Roadhouse is a real place – each person just perceives it a bit different from another. Or maybe a lot different, for all that I know. I'd say it would be a stretch to see it as modern, sleek nightclub, but I guess if you got a group of those folks lost out here in these parts, they could enjoy themselves sitting and talking and digging down in the soda pop cooler. The stove that we put wood in for heat – not the cooking kind – might take them aback, but it's a pretty fine thing on a cool morning come dawn or a cold winter day.
Most of us agree the floor is pretty much narrow hardwood, although we've got some big, wide and thick planks in a couple of areas. We've got a counter and stools and tables and chairs and I wouldn't say too many things match. Got a couple or big real rag rugs and a couple of fake Persian, threadbare they are. There's an aroma in the place, a mixture of woodsmoke and your favorite fragrance. Some swear it's citrus and sage, others insist it's macintosh and peach and every now and then we all agree it's the scent of rhubarb cooking down to a sauce.
We've got Friday, our dog, you used to live in meadow in Vermont until he died and came here. I guess technically he's a dog-angel – but we don't get technical here.
Duck decoy on porch windowsill

Mother in 1927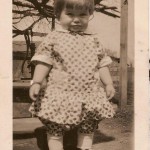 Robert Grismore and his grandson, Robert – Kingman, Indiana 1971
Great-Great Aunt Sara and me: 1949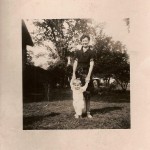 Woodpile low in spring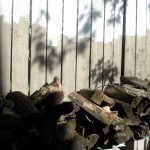 Liddy, our piano player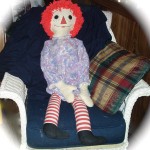 William A. Vance in San Diego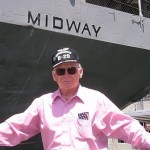 Not the leaning cow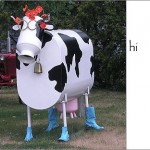 If you click, you will see Woo's head. She's a regular here.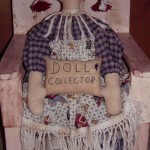 Click and see Emoos and learn what they are by checking the Emoo page.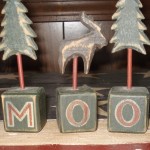 Okay, she got served crunchy instead of creamy.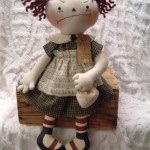 Our lighthouse lamp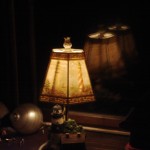 Mirror from Bryon Grismore's house – See Humphrey Bogart reflected in it?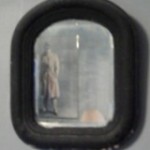 Rhubarb simmering . . . a great smell.