That is all I can think of to post in the title spot. Well, that's not true; there are a lot of sentiments I could cite, but I am worn down and the day is early and who knows what could happen, so let us stick with tsk, tsk, tsk.
I've talked about the snow and the mulch and then it warming up. We have a weather advisory of weather in the 20's, so I am hoping this scene is not repeated: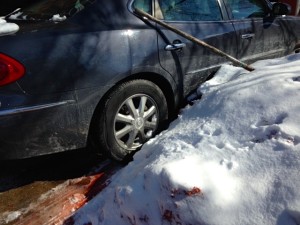 I'm particularly impressed by the bleeding mulch stain by the car wheel.
Now, I have another picture to show you. I have a large green wicker basket – large in the since of tabletop large. It has been one of my favorites and I keep daily stuff in it by where I usually sit. Often I put it on the floor where I can readily reach down for things and drop them back in. Well, for a couple of days, I have found what looks like a situation where the basket has been overturned – stuff scattered.
I noticed it again this morning and finally got annoyed enough to stop refilling it and actually look.
Here's the view: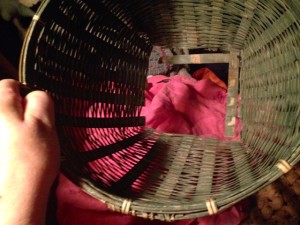 Where is the bottom? I suppose now I will have to haunt rummage sales and GoodWill for another basket. That is not straight forward: the basket has to speak to me and hint of an ambiance I can use to construct comforting memories about it. Most people could just get a box or a basket; not AmeliaJake – I am sooooo hight maintenance.