I received a postcard this summer from an Internet friend who was in Europe, and I was glad to get it. Yesterday, in the basement of the Lagrange House, I came across another postcard from Italy, one I received 63 years ago. I don't remember getting it, but I was glad to find it – and maybe a little surprised.
I need to scan it into my photo library, but because I didn't feel like going through the steps right now, I just snapped a picture of the back: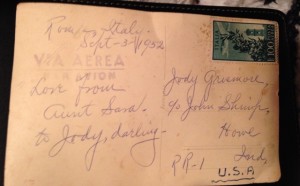 Actually, she was my great-great aunt; she was the youngest child of six and the oldest was my great-grandfather, so she was only a couple of years older than Grandma. They both loved to read, graduated from Lima High School, went to college and became teachers. They paths diverged and Aunt Sara married an Encyclopedia Brittanica salesman and traveled the United States with him; he died and she worked in Washington D.C. at the Veteran's Administration; she remarried – (they both thought the other was rich); they traveled around the world; she kept her hair dyed red, but was very regal appearing. When I was around two and three, she took lots of pictures of me when she came to Indiana to stay with us for a summer – or longer.
Oh, she called her husband L.D. so we all did; I don't think we knew why she called him that. He died in a doctor's office waiting room of a heart attack in New Orleans. She came back to Indiana when she was very, very old and died not far from where she was born.
Look at the penmanship. I remember Grandma making each "p" with the same upsweep. I cherished those p's. There's one in the inscription in the Bible my grandma gave me in 1953.
I found the card on a dusty shelf under some other stuff. Dust to dust and not long until me too, but oh, how clear and solid memories can be. Maybe somewhere they are all stored; maybe moments are forever, we just don't know it. If they were and if we did know it and if we could, maybe we would just step back into them . . . but which one to pick. What forever would we choose.
So many things go with us when we die and those of another generation have not a clue of the scents and love and comforts of the moments that were so dear to us. It's in the details – the feelings of it, and I dearly wish I could find a way to link the emotions of one life's experiences to those of another life. I would like to think that each link in the chain could at least sense the essence of warm sunshine and loved one's smells that makes that chain.