Remember all the little old ladies on TV shows in the past that referred to Elderberry Wine? No? Well, that's okay. Well, I have my version of that and it's worked pretty well to fortify my constitution, dontcha know. However, I have developed a mild cold; at first, I thought I was going to be laid low because my thigh muscles were burning, my back hurt and my nose was stuffing and then running.
This morning, however, I don't feel too bad – a little scratchiness in my throat and a bit of pressure in my ears, but I do not sound like the people in the area who have been so congested that when they cough, you think their lungs are going to come oozing out.
I think I'm going to start thinking of the supplement as not an extract of Elderberry, but as AmeliaJake's Elderberry Wine "Recipe." Sort of like Papa's Recipe that the Baldwin sisters had on the Walton's – Miss Emily and Miss Mamie.
Remembering those two, I recall they took turns answering the telephone – only they would get confused on whose turn it was and often never picked up. I miss the Walton's; Ike's General Store was like the one close to the LaGrange County house. When I was very little, my parents tucked a coin in my hand and I went over all by myself to get a bag of candy "kern" as I called it. (I think, though, that I did not really go alone; I suspect I had a shadow.
We used to get Pokagon soda pop there. At first they got me orange until I was old enough to indicate I preferred strawberry. I have a very vague memory of trying to figure out how to drink out of the bottle without putting my entire mouth around it. It seemed like a very big deal at the time. Those were the days when the soda pop was kept in a bath of ice water and you slid it along a slot to get it out.
That is one of the reasons I think I like City Barbeque in Beavercreek so well. It is homely like an old general store and they stash their sodas and beers in a long tub of icy slush, not to mention the food is very, very good.
.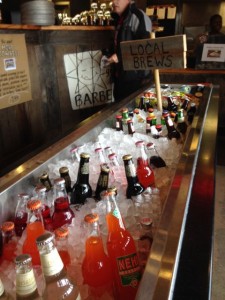 I was going to indulge this weekend, but decided to put the trip off 'til I felt more energized. Now, I am thinking of Cheerwine and wondering if I am too much of a wimp. That tank looks so inviting and I can just about taste the sandwich.