I am at the Fairborn apartment and the morning skies are grey; I think someone said things would be cleaning up, but I am just going to wait and see, rather than hop on over to weather.com. I have renewed my diet for health and appearance, but do you hear City Barbecue calling, "AmeliaJake, AmeiliaJake . . . ?" It might be my imagination. The atmosphere is so nice there, though, and maybe just one red Cheerwine on a red, white and blue weekend wouldn't be a great sin. (My goodness, I rationalize so easily, though even I have to realize color scheme is a stretching link with saying 'Happy Birthday, America.")
There is a Goodwill right across the street, though, and in this Air Force/college town, you can really find some exotic – as in What the heck is this? items. Just today, I have been tracking down an odd kitchen implement I coughed up a dollar for: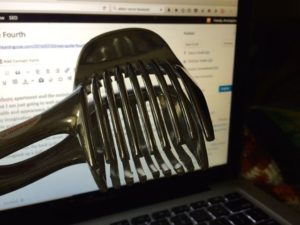 Yeah, I know, kind of put you in mind of anything from lettuce, pasta, individual entree offerings or the Spanish Inquisition. Maybe I should just go with the ignorance is bliss line of thinking.
UPDATE: Woo-Hoo, this is a set of tongs engineered for slicing tomatoes for sandwiches. The curved edge provides a steady resting support, the lock on the hinge keeps the tomato in position and yes, I have an AmeliaJake winner.