I did not care much for hostas in previous times, and then I discovered they are very hardy and out of a bunch of dead debris, stick their little heads every spring. For someone with a very black thumb, that is heck of an advantage.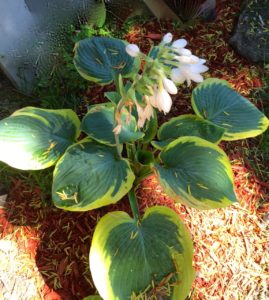 A few years ago I started planting them in areas that were almost always in shade and inclined to be muddy. That first year was a big question mark as Shane took to digging holes around them – in face, I wound up putting a wire fence around the line of them by a north-facing brick wall. But the year after, there they were.
So I planted a few more that got walked on and trampled when we had to take a section of a fence down, but they poked their heads up this spring and starting growing.
When the local grocery offered them for sale again this year, I loaded up my basket. The one above is freshly transplanted. And it blooms.
It has occurred to me that perhaps the plants that show up in front of grocery stores are rejects from nurseries, ones that are judged to have a flaw. The point is, by God, they made it even after rejection and, dontcha know, they seem to be resolute little guys when given a home.
I have purchased some plants from nurseries that believe, but cannot prove, have not thrived because I was not out here holding their little leaves and whispering sweet words.
I was quite concerned about the fern that I had transplanted from Mother's, but this spring it, too, showed up. And the myrtle that came from homesteads in Fountain County and moved to LaGrange County and now to Noble County is flourishing.
These guys are the type of soldiers General Patton would be proud of.