I should have read what Dooce had to say about her Maytag experience in 2009. If you're interested, you can read the saga HERE.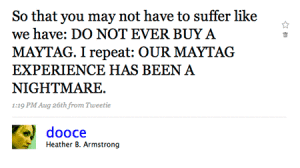 UH, THAT EXCERPT UP THERE – IT'S KIND OF MY FAVORITE PART OF THE POST.
And here's another excerpt from her post:
I get a phone call from Jeff Piraino, manager of the executive offices of Whirlpool Corporation in Michigan.

BOO-YAH!

That, my friends, is service.

And he is incredibly nice, very apologetic, very helpful, and like any good therapist listens to why I am so upset. And the kicker: HE UNDERSTANDS WHY. So then he himself calls a different repair company and has a guy come out within the hour to look at the machine. And so I go put on a nursing bra to look presentable.

That guy assesses immediately that three parts need to be replaced, and he and Jeff at the headquarters in Michigan work it out that the parts will be overnighted and he can come back today and fix it. (currently waiting for him… UPDATE: he is here… waiting… waiting…FIXED! He FIXED IT! He FIXED IT! RAIN CAME BACK! RAIN CAME BACK!)

Oh my God, this is all I ever wanted. Seriously. Thank you Maytag. Thank you, thank you, thank you, Jeff Piraino. My $1,300 washing machine is now working, and I can finally shut up about it. THE INTERNET THANKS YOU.
So I contacted Whirlpool and the chat lady said she had no idea who Jeff Piraino was.
JEFF PIRAINO: WHERE ARE YOU?  You are needed again.