It is still August, but we have had a fairly cool summer and people are already talking of fall. Standing out in the outdoors painting a fence does not particularly promote such thoughts, but kids going by in backpacks and tulip tree leaves falling keeps it tickling the back of my mind.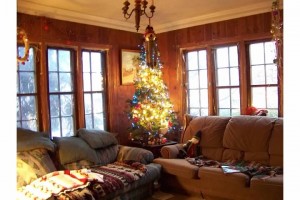 While I was going through some Shutterfly albums, I found this picture of the den in cool weather. The sofa* with the orange/brown blanket on it is gone, wrestled out of the house by one old lady and two grandkids – now there was a story, going through a too narrow hallway. I think more time needs to pass before the reliving of it. Anyway, the room is still there and so is the fireplace – but I didn't have a fire picture in this album.
But, look, there was one on the next album. However, not really; on closer inspection, it's a picture of a video fire. Oh well.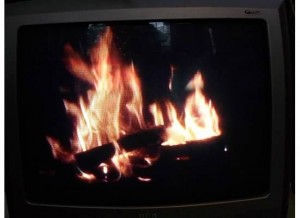 *Oh, wait, this is not the stuck in the hallway sofa; this is the possibly chopped up in place old sofa. I'm pretty certain I put that story out of mind. Or maybe I burned it up in the video fireplace.