Within the last few months, I have been receiving emails referencing the possibility that my death might be imminent. They arrive every every few days; one this week stated in the subject slot: Bad Luck Can Happen at Any Time . . .
I don't know if my name is on some psychic's list or a hitman's list, but it's getting a little eerie.
Does it have something to do with any sites I may have visited? Have I looked up any illnesses? Is it because I have entered the Senior Citizen Zone?
Well, in case anything happens, let me post this picture of the age-old, whatever that means, trumpet vine that has been on the southwest corner of my mother's house since I can remember.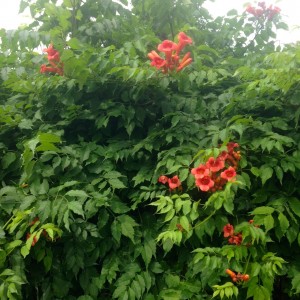 I do hope that does not trigger any link to Gabriel blowing his horn . . .