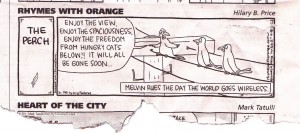 Some things you just never think about, but, then again, where did they sit before electricity, the telegraph, and the telephone? I guess there were more trees, and then you have to remember the days of clothes lines.
I just can't get started today; I did get up, but that's about it. Washed a few dishes, tossed a load in the laundry and, uh, well, I can't think of anything else. It is Trash Stomping Day, but the prestige of that task has worn off.
The sky was blue when I opened my eyes this morning and grey about 15 minutes later. It's been overcast almost constantly with a wink of sun once or twice. And windy. We had a few snowflakes and the temp when I checked was officially 34 degrees. I had spent time yesterday gathering up winter clothing to go in a box, so I guess that's my fault. Of course, the grass has started growing, never mind the snowflakes and cold air. I guess I'll have to put anti-freeze in the lawn mower motors.
And on that thought, I'm going to put this computer down and pout.