Can't be anything fancy – I've got my jeans with the tattered cuffs on, not to mention my so very often worn red knit shirt. I suppose I'll change the vacuum bag. Yes, it's that type of mood that has embraced me – sort of akin to laziness. I believe it may be a chronic case.
I'm planning to go to Fairborn tomorrow; haven't cleaned out the car yet. I mean it was frozen shut Monday night and I guess I'll just keep the winter provisions – as scattered and cluttered as they have become – in the backseat and trunk.
Oh, wait, I'll put on my parrot necklace and that may work some magic.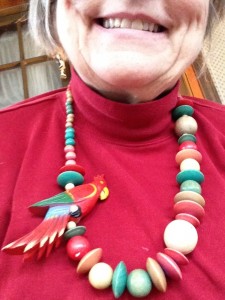 My, it seems that I need more than magic – time for facial muscle exercises. You don't want to see pictures of those.