We put the bubble lights that LZP sent on the little crooked tree. And then I added some flat, transparent ornaments that are each embossed with a holiday scene and inherited from my mother. The picture does not do the tree justice: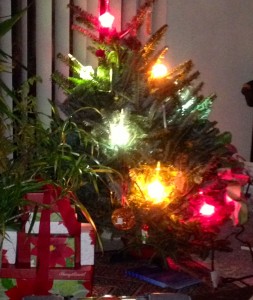 Oh, I also hung another old ornament on the the lower branches – a Raggedy Ann with a missing leg. And the Homeless Pet ornament and one that says JOY but still has the GoodWill price stamp on it. It's the little touches, dontcha know.
The drive down yesterday was pleasant in an unusual way. It rained for a good bit of the trip, but the temperature was in the 40's and climbing and I had no fear of ice developing, plus I had just recently purchased super-dooper windshield wipers. I listened to Christmas carols and the GPS lady's instructions and made good time, not stopping once.
We spent Christmas Eve grazing on all sorts of little delicacies and some cheese to which I kept adding horseradish. We watched episodes of Foyle's War, talked on the phone with LZP and somewhere around 10 pm, I nodded off. I think Der Bingle kept on reading. He left me tucked in on the sofa, which is just as well since I always wake early and now don't have to worry about bothering him while I wait for sunrise.
Time for a soda and Christmas peanut butter . . .