I'm back, but this is a picture of me waiting for Der Bingle to start the car in Iowa and begin our trek eastward – well, the car did the work.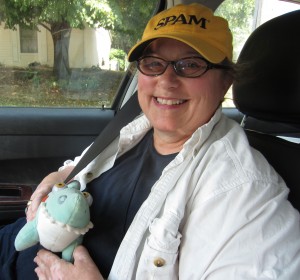 The little shark tucked in my seatbelt is Crazy Eyes; LZP would move him around and his eyes would spin and LZP would say, "What you looking at?" And Jody would laugh. We're calling him CE for short because, well, he's a little sensitive about the crazy moniker. Actually he is CEO for Chief Executive, Ocean.
The only real drama on his ride to Indiana came at the end when I unsnapped my seatbelt and forgot momentarily that it was not also an AmeliaJake belt and that he would fall if I got out of the car. BUT THEN I REMEMBERED and he was safe. Which reminds me, I must make it a habit to put him on the back of the sofa and not on the seat.
He's settling in and Rose made sure he brushed his teeth last night. I'm certain we'll all be chums.