Stars and Sun from that epitome of cosmopolitan stores – Rural King.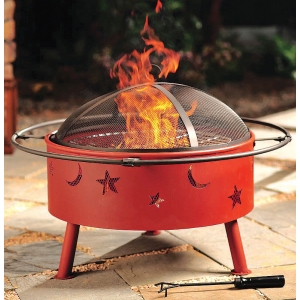 The Moon and Stars – first time I saw it I thought, "Who would buy a funky firepit like that?" I had that same "who would buy" initial feeling about the little green car, as well, and we all know what happened to my heartstrings.
The second time I looked at the Moon and Stars, I got a sense of a compatriots gathered in ceremony . . . er, maybe Druids – not that we wanted to sacrifice anyone. This is not going well – my description. Let's just say it grew on me and so Summer and I bought it and brought it home and put it together. Then we had a fire and it smoked. So we are refining out wood techniques, realizing that we are not aiming for one of our go all day in the winter fireplace fire, but a cheery little segment of the evening fire. We are gearing up to split our firewood into kindling and pieces a bit larger than kindling; in other woods, we are in the training wheels phase of firepitting.
Der Bingle wants a real picture of our exact firepit with some of the patrons of the Peanut Butter Cafe & Roadhouse sitting around it toasting foldovers. We will see if we can oblige because he says, "If it's not on the cow, it hasn't happened."